Water flow monitoring alarm sensor can be installed on the water pipes, real-time monitoring of the water flow status to avoid improper irrigation due to water cuts, pipe bursts, insufficient water pressure, etc. It also can coordinate with led grow light control system and work well with led grow light to mornitor the ecosystem.It is also used to monitor the normality of the water supply pipelines, to satisfy users' requirements of   monitoring water flow and obtaining alarms, viewing historical records, etc:
①When use the water flow monitoring alarm sensor  alone, it can be set in a certain time-regular cycle logic, and an alarm message will pop up if there is no water flow passing through any cycle time period. It can also be set in a certain cycle time period at the same time, and an alarm will go off when water flows get through.
②Alert method: WeChat message
③Support viewing history records
④Support setting up multiple people to receive alarm messages
⑤When there is a switch controller of Meshsig communication standard, the following two abnormal alarms can be used: switch on time, no water flow. When the switch is closed, water flows through.
Appearance:
The water flow sensor probe has three specifications of 2 points, 4 points, and 6 points. Just install it in a valid location.
The data acquisition transmitter is installed in a non-sealed environment, and the antenna is exposed to the air and installed upwards (if necessary, an antenna with an extension cord can also be provided)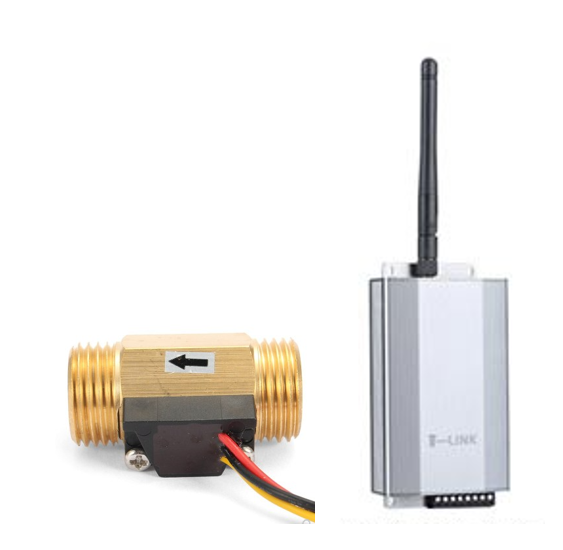 Data acquisition transmitter: power supply: 12V
Provide one 110V-240V power adapter and one antenna.
Size: 123*80*25mm
Hardware expansion function:
① One or more switches can be linked, and the system will send an alarm message to WeChat of the person in charge according to the state of the switch.
②The lighting, irrigation, etc. can exsist in the same system
③The temperature, humidity, carbon dioxide and other data can be viewed in the same system, and historical data can be downloaded on the PC for data analysis.
④Support the display of sensor data call on the big screen.
technical parameter:
1.Water quality requirements: Sanitary standard of drinking water, 0-80℃
2.Flow range: 1~30L/min
3.Water pressure resistance:≤1.75MPa
4.Voltage and current: DC4.5~18V, ≤10mA, DC24V can be customized
5.Insulation resistance: >100MΩ
6.Electrical strength: AC500V, 50HZ
7.Output level: rated DC5V, high level≥4.5V, low level≤05.V
8. Pulse duty cycle: 50%
9.Flow characteristics: F=10Q-4, F: Hz, Q: L/min, accuracy ±10%
10.Cumulative flow conversion: 1L water=553pulse, accuracy±10%
11.Brass material, used in instantaneous point water heaters, gas water heaters, water controllers, instruments, etc.